When looking to buy a home or if you have taken on the challenge of doing your very own home inspection: start in the basement. Basements provide storage, separate living areas, more likely than not, basements give you accessibility to the home's major systems. The main systems of a house are your MEP (mechanical, electrical and plumbing). I am talking about your heating, cooling, ventilation, ducts, pipes and wires. It provides the best place for your water heater, water pressure tanks, water softeners and furnaces as well. Having easy access to these systems makes repairs and remodeling accessible and affordable. Let's break it down, assuming your house has a basement and all major systems are kept there.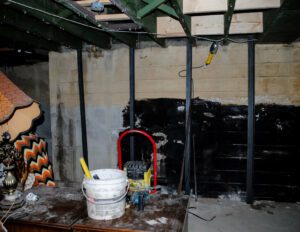 Let's start with obvious: your visual observation. You are looking to see if there are signs of water damage or mold. Are the floors leveled and intact? Unfortunately, you can only see what is on your side of the wall. You will need a licensed professional in order to get a more in depth understanding of what is going on behind the walls. Remember to look up, if your basement is unfinished you will be able to see the plumbing pipes, check for rust. The picture below is taken from the public domain entitled "Grungy warehouse basement," can you find all the areas of concern?
Note the water stained ceiling is an indication of plumbing leaks. You are essentially playing investigator, get up close and observe the details of what is going on. Now that we looked up, look down. Now that we looked up, look down. The most common flooring in an unfinished basement is poured concrete. It is a good choice for builders. The material as you know is solid so it won't easily bow to water and the Earth's surface. Due to the density it is more resistant to water and fire alike.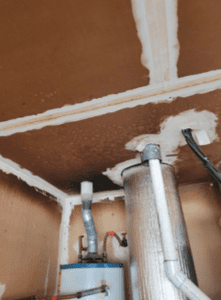 Ok, our floors and ceilings are intact now it's time to inspect your water heater. Is it making any strange noises? Are you getting rusty discolored water out of the tap? Your once coveted hot shower has become shorter and shorter and not by choice? Is there a puddle around the unit!! These are all obvious signs it is time to buy a new water heater. A new water heater ranges from $1,000- $7,000 depending mostly upon the size and capacity.
If you want more out of your building systems I suggest, getting yearly tune ups. In construction and the building world the term is commissioning. Commissioning is the testing and verification that your building systems are operating as efficiently as possible. If you regularly undergo commissioning you can extend the lifespan of your building systems anywhere from 5-10 years. I used to say: "You take your car to the mechanic for a check up and oil change, you should do the same for your building."  We will go into more detail of the various building systems but wanted to give you the basic guidelines for inspecting your basement and remind you, that you can give yourself a quick inspection for free. If your basement is unfinished, you might want to consider finishing it because you will see a 70-75% return on your investment, that is a huge ROI. Basements are a huge appeal.