You've seen the "we buy houses" and "cash for houses" signs all around town when you're driving around, so who are these cash buyers in the Bay Area ? Are they legit? How does it work? Who should I trust? We'll dive into these questions here… but before we get started, be sure to stop by and read about how to find a credible house buying company.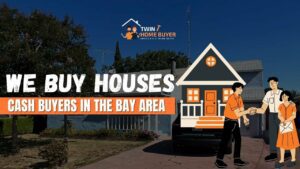 There are many reasons you might be searching for a cash home buyer. Divorce, job loss, relocation, and mortgage trouble are common reasons, but other homeowners prefer to sell without a Realtor and want to connect with buyers directly. Selling directly to a house buyer can get you the cash that you need fast, while also taking your property off your hands so you can move on with your life.
Cash Buyers That Are Real Estate Investors Cash buyers will usually be investors (some locally based, like us here at Twin Home Buyer… and some based out of town) whose goal is to create win-win situations and help homeowners like yourself. While some cash buyers are people who intend to live in the home, we do not intend to occupy it. The occupant cash buyers are harder to find since they do not advertise that they have money. Most occupant buyers do not use all cash even if they have it. Back to investors…
Being able to pay cash gives us the flexibility to work around your time frame, whether that be a fast or slow sale. Need to be out in two weeks? No problem!
Need more time? We can buy the house, give you moving money from the sale proceeds, then take the appropriate amount of time you need to move. We aren't in a rush if you're not.